RSTO in action
RSTO is in phase two, the action phase. We're working with partners across the five early years services and strategies to co-design, test and implement prototypes. They aim to make it easier to collect, interpret and use data and apply solutions to enhance service delivery. Phase two has two main stages.
Stage 1: Engaging with communities and service providers to:
understand how partner goals and strategies align with RSTO 
conduct research on the barriers and enablers to collecting, interpreting and using evidence based lead indicators
undertake a systemic literature review to identify solutions proven to address the barriers
identify and prioritise the development of prototypes
develop a commitment to using prototypes to achieve change.
Stage 2: Applying the learnings from stage 1 to:
design, develop, test and refine a set of practical prototypes (Learning System) with partners that helps them act on data as self-sufficiently as possible
test how this helps partners to better understand and act on priorities and improve performance.
Partnering for service and community improvement
RSTO has published three scenarios, informed by real experiences, to showcase how RSTO partnerships with services and communities can drive meaningful change in service provision.
Each scenario illustrates how a service provider in antenatal care, parenting programs or early childhood education and care (ECEC) have used the RSTO indicators to improve their practices and optimise the benefits for children and families.
RSTO indicators for change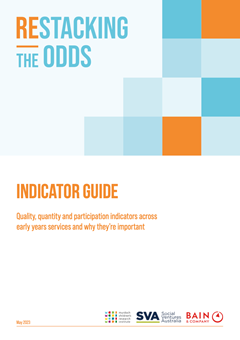 Download the RSTO Indicator Guide
The RSTO indicator framework was developed in RSTO's first phase and has since been transformed into the RSTO Indicator Guide — to support service providers, communities and decision makers to use data to optimise early years services. The Guide can help programs and services to identify service challenges and apply local solutions that enhance service (or program) participation, quality and participation.
The RSTO Indicator Guide provides a collection of evidence-based lead indicators for five key early childhood services: antenatal care, nurse home visiting, early childhood education and care, parenting programs and the early years of school (P-3). It is designed for use by:
local community organisations
government staff e.g. funders of services across the early years; and policy advisors
service providers
measurement and evaluation specialists
researchers.
The framework of lead indicators can be used to:
better measure service performance and provide more effective and efficient services (and avoid wasting time, money and effort on approaches that fail to deliver results)
better respond to the needs of children and families in their community, especially those experiencing vulnerability and disadvantage
learn and share with others striving to improve children's outcomes
capture evidence for insights, innovation and advocacy.
Learn about the rigorous research process undertaken to develop the RSTO Indicator Guide
Restacking the Odds is a collaboration between the Centre for Community Child Health at the Murdoch Children's Research Institute, Bain & Company and Social Ventures Australia.
RSTO would like to acknowledge the support of project partners the Paul Ramsay Foundation and Seer Data.
We acknowledge the Traditional Owners of the land on which we work and pay our respect to Elders past, present and emerging.